Choose the right web host for your project. Packages can always be changed as your needs change.
Web host WP 1
For websites and blogs
Pre-installed WordPress
10 mailboxes
6 GB disk space (SSD)
Basic performance
Transfer your current WordPress site
Free SSL certificate
Host 1 WordPress installations
€12 per month*
(plus 24% VAT)
2-week satisfaction guarantee
Web host WP 2
For online stores and popular sites
Pre-installed WordPress
50 mailboxes
12 GB disk space (SSD)
Performance x 2
Transfer your current WordPress site
Free SSL certificate
Host 2 WordPress installations
€19 per month*
(plus 24% VAT)
2-week satisfaction guarantee
Web host WP 3
For performance applications
Pre-installed WordPress
100 mailboxes
25 GB disk space (SSD)
Performance x 4
Transfer your current WordPress site
Free SSL certificate
Host 3 WordPress installations
€28 per month*
(plus 24% VAT)
2-week satisfaction guarantee
* Price based on a one-year billing period. Billing periods to choose from: one month, three months, six months and one year. See the prices for the different periods in the price list.
Outstanding customer service
Whether you need help choosing a service, setting it up or solving unexpected hiccups, we're always on hand to provide fast and friendly service. Our customer service is there to help you by phone or email, in English or Finnish.
Customer service contact information
Performance optimised for WordPress
Our WP web hosting options are high-performance packages for sites of all sizes. It's also easy to upgrade to a larger package as your needs develop. We offer speed, convenience and top-quality customer service at competitive prices.
WP cache
Our service includes a server-level WP cache designed specifically for WordPress. Pre-installed, of course.
Automatic updates
WordPress and its plugins remain updated automatically. A backup of the website is made during the upgrade, to be used for restoration if necessary.
Latest technology
The service includes a WordPress-optimised firewall, the latest PHP versions and HTTP/3 technology to speed up connections to the server. We always check that the website works after server software updates in the same way as before they were made.
Servers located in Finland
Servers running on a reliable and scalable platform are located in data centres in Helsinki that are monitored 24/7 with fast connections.
SSL certificate as standard
Security above all else. A secure connection (HTTPS) is automatically enabled for you. A Let's Encrypt certificate is automatically installed within 24 hours of registering or transferring your domain to us.
WooCommerce
The WooCommerce e-commerce platform works well with our service. The cache is also WooCommerce-compatible.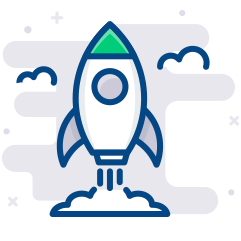 The fastest WordPress
The LiteSpeed server and LiteSpeed Cache make your website or online shop lightning fast.
These features will help your website achieve high PageSpeed scores:
Server-level full-page cache
Private cache
Edge Side Includes (ESI) support
Downloading of Lazy Load images
Image optimisation
Linking CSS/Javascript files
Database optimisation
Email addresses on your own domain
All our web hosting options include mailboxes under your own domain name (e.g. firstname.lastname@yourcompany.fi). The name services included in the service also allow you to use third-party email services (e.g. Microsoft Office 365, Google Workspace) on your domain.
Read more.
Easy management
The cPanel control panel enables you to manage the settings for your website, email accounts and name services.
Email management
File management
PHP version management
Visitor statistics
Database management
DNS management and controls for domains
Backup management
Transferring WordPress sites to WP web hosting
We can transfer your existing WordPress website to our service or provide advice, free of charge. To arrange a transfer date, please our customer service. To carry out the transfer, we need the FTP credentials and access to manage the MySQL database. We carry out basic optimisation during the transfer to ensure that the website is up and running on our service as quickly as possible.
Customer testimonials
Hostingservice serves companies, individuals and digital services providers and freelancers who create WordPress websites for a living. Join our more than 20,000 satisfied customers!
"The huge and rapid spike in visitors after our products were featured on a TV show was easily handled by WordPress hosting"
"I'm truly satisfied with Hostingservice. The former IT consultant and current herbalist was particularly impressed with the quality and flexibility of our customer service. Hostingservice certainly knows its stuff: our company, the Lappish superfoods manufacturer Arctic Warriors, was featured on 'Leijonan luola', a popular TV programme in Finland in spring 2018, and the servers had no difficulty in handling the resulting huge and rapid spike in visitors to our website. Several other companies that were featured on the show weren't so lucky, as their websites crashed."
Ilkka Kauppinen
CEO and partner
Arctic Warriors Oy
www.arcticwarriors.fi
"Fast-loading web pages are important for a good online magazine reading experience."
"Our online magazine on investing and finance, SalkunRakentaja, has tens of thousands of readers every week. That's why the site absolutely needs to runs smoothly, and to be extremely fast. Fast-loading web pages are important for a good online magazine reading experience. The Hostingservice website runs on the WordPress platform and is perfectly optimised for our needs. The Hostingservice support team is clearly a knowledgeable bunch, and gave invaluable advice on developing our website.
The most important thing, however, is the excellent user support service. Hostingservice staff respond quickly and always provide thorough assistance. No challenge has ever been too great for them. I highly recommend Hostingservice – it's excellent value for money."
Jorma Erkkilä
www.salkunrakentaja.fi
Frequently asked questions about our WordPress web hosting
WordPress, or WP for short, is the world's most popular software for creating websites. 30% of the world's websites have been built with WP. WP was originally used to create blogs, but nowadays it can be used to build just about any kind of website. With the WooCommerce plugin, you can also use it to create an online shop using Finnish payment methods. WP is open source software, with a large community of developers of plugins, themes and other services.
Why choose WordPress hosting instead of regular web hosting?
Hostingservice's WP web hosting service is fully optimised for WordPress. WP is already pre-installed and optimised, including caching. If it's especially important for you to have a high-speed website and your website has heavy visitor traffic, you shouldn't hesitate to choose WP web hosting. Because the caching takes place at the server level, it is faster than other caching methods. WP web hosting also has fewer accounts per server compared to a standard web host.
How is data security guaranteed?
We use a powerful web application firewall (WAF) that includes rules specifically designed to protect WordPress. The data security of servers is also ensured by an efficient IDS/IPS system. Most hacking vulnerabilities are caused by running an outdated version of WordPress or using an old plugin that does not have the latest security updates. With our WP web hosting options, you can keep your WordPress, plugins and theme automatically updated.
Why choose a hosting service from Hostingservice WordPress-hosting instead of WordPress.com?
WordPress.com is a limited service – only certain plugins will work on it. The WP we install is the open source wordpress.org version, to which you can add any plugin or theme you want. Another difference is that we only use data centres located in Finland.